Unlocking the Potential of Voice AI in the Media Industry: Personalizing Content for Viewers
Sachin Kalaskar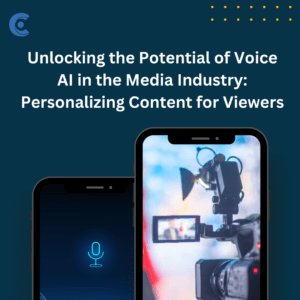 Voice AI is revolutionizing the media industry by enabling personalized content experiences for viewers, transforming how they consume and engage with media.
The media industry is witnessing a paradigm shift in the way content is consumed, and Voice Artificial Intelligence (AI) is at the forefront of this transformation. With its ability to understand and respond to natural language, Voice AI is revolutionizing the media landscape by offering personalized content experiences for viewers.
1. Enhanced Content Discovery:
Voice AI enables effortless content discovery by voicing preferences or questions, delivering tailored recommendations based on interests, history, and real-time context, enhancing user experience, engagement, and satisfaction.
2. Seamless Voice-Controlled Interactions:
Viewers interact with media platforms using natural language, simplifying navigation. Voice commands allow searching shows, controlling playback, adjusting volume, and requesting details, providing convenience and accessibility for all.
3. Contextual Content Delivery:
Voice AI's algorithms analyze user data to deliver contextualized content recommendations, considering time, location, and mood. Personalization creates a tailored viewing experience resonating with individual preferences.
4. Enhanced Engagement and Interactivity:
Voice AI enables dynamic conversations with virtual assistants, providing real-time information, answering questions, and simulating dialogue, fostering a deeper connection between viewers and content, enhancing engagement and satisfaction.
5. Data-Driven Insights:
Voice AI generates valuable data for understanding viewer preferences and behavior. Analysis of voice interactions provides actionable insights into content performance, trends, and optimization, empowering decision-makers for targeted and relevant content offerings.
Conclusion
Voice AI is reshaping the media industry, offering personalized content experiences that captivate viewers and elevate the way they engage with media.
Ready to personalize your content experience with Voice AI? Share how it transformed your media consumption!