Year in Review With CoreView Systems
Sachin Kalaskar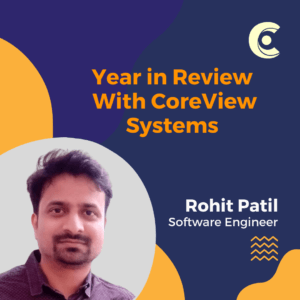 2022 started with the subsiding pandemic – resulting in talks about a hybrid work model as most employees were working from home. Our team has been working together for the last four years, and meeting in person for a few days a week was a welcome change after two years of remote working. The hybrid model seems the best work model as it also lets team building at a faster pace, specifically for new joiners in the team.
Workwise, the year was equally exciting working for our customer, successfully delivering three significant releases with many interesting features and improvements. Allowed me to work on various critical aspects of the product, like performance enhancements, newer technology platforms, working with new team members, and, most importantly, delivering value to the customer. Broadly explored UFT (automation tool by HP), Web Object Spying, and Azure cloud platform. Also came up with challenging issues in which the guidance of senior team members was handy; it opened up a new way of thinking in the developer's mind.
One of the special moments this year was the recognition as the start performer annual award from the organization. It always feels great to be appreciated and rewarded for the hard work one puts in daily. Another learning event was a hackathon competition which made us think out of the box and come up with various ideas for the product we are working on. It was a great learning experience, and winning second runners up among the incredible views from all teams in the organization felt great.
Our organization arranged many other events like leadership talks, physical and mental well-being sessions, and other
essential topics such as finance, communication improvement, technical sessions, etc. In the age of working remotely, these talks were nice to have a break, along with some learnings from the sessions. I appreciate the help provided by the HR team in the Mediclaim process in the trying times of medical emergencies.
This was a great year, and I look forward to 2023, bringing new challenges and learnings to help me grow professionally.