How VoiceAI can serve as a crucial catalyst for unlocking the next wave of innovative solutions across the Healthcare industry.
Sachin Kalaskar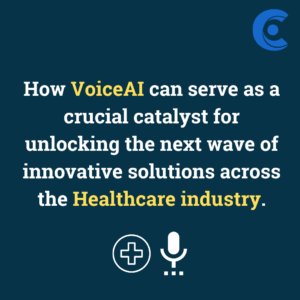 1. Enhanced Patient Experience: VoiceAI can improve the patient experience by enabling patients to communicate with healthcare providers more easily and efficiently. Patients can use voice assistants to schedule appointments, access medical records, and receive medication reminders with minimal human interaction.
2. Improved Access to Healthcare: VoiceAI can help bridge the gap between patients and healthcare providers, especially in remote or under-served areas. Patients can use voice assistants to access medical information, receive real-time health advice, and even conduct virtual consultations with healthcare professionals.
3.Streamlined Medical Documentation: VoiceAI can simplify the documentation process, reducing healthcare professionals' time on paperwork. With VoiceAI, doctors and nurses can dictate their notes and have them transcribed automatically, freeing up more time for patient care.
4. Personalized Care: VoiceAI can improve the accuracy of diagnosis and treatment plans by collecting and analyzing patient data. Healthcare providers can use this data to create personalized care plans tailored to patients' needs and preferences.
5. Efficient Clinical Trials: VoiceAI can assist in clinical trials by automating patient recruitment and data collection tasks. This can reduce the time and cost of conducting clinical trials, ultimately leading to faster drug approvals and improved patient outcomes.
6. Improved Mental Health Services: VoiceAI can improve access to mental health services by enabling patients to access care more conveniently and comfortably. Patients can use voice assistants to access mental health resources, receive support and counseling, and even participate in therapy sessions.
7. Enhanced Medical Training: VoiceAI can be used to train healthcare professionals by providing interactive simulations and feedback. Voice assistants can simulate patient interactions, allowing healthcare professionals to practice their skills and receive feedback in real-time, ultimately improving patient outcomes.
We are keen to hear your opinion on this.