Here is how Voice AI transforms the retail industry: From Enhancing customer engagement to driving sales.
Sachin Kalaskar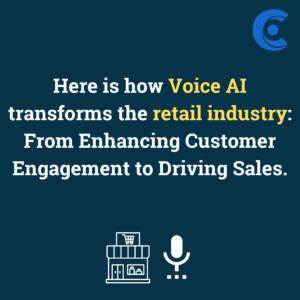 Personalized Shopping Experience

: Voice AI personalizes the shopping experience by understanding customers' preferences and past purchases. By analyzing customers' data, it offers personalized recommendations to customers, leading to higher conversion rates and increased sales.

Voice-activated Shopping

: Voice AI enables voice-activated shopping, allowing customers to purchase without physically touching any device. This convenience enhances the shopping experience and encourages more customers to purchase.

24/7 Availability

: Voice AI provides 24/7 availability, allowing customers to shop at any time, from anywhere. 24/7 Availability increase sales and customer satisfaction, enabling customers to shop conveniently.

Enhanced Customer Support

: Voice AI provides enhanced customer support by assisting customers with their inquiries and resolving their issues. It helps improve customer satisfaction and increase the likelihood of repeat purchases.

Better Inventory Management

: Voice AI helps retailers manage their inventory by tracking sales, predicting demand, and managing stock levels. Leveraging Voice AI helps retailers optimize their inventory levels, reducing the chances of stockouts and overstocking.

Streamlined Operations

: Voice AI streamlines retail operations by automating repetitive tasks, such as inventory management, order processing, and customer support. It frees staff to focus on more strategic tasks, like improving customer experience and driving sales.

Data Analysis

: Voice AI analyzes customer data and provides insights into customer behavior, preferences, and purchasing patterns. This helps retailers make more informed decisions, such as which products to stock, how to price their products, and how to market to their target audience.
You are welcome to add to this list.