From Speech Recognition to Natural Language Processing – How is Voice-AI Revolutionizing the Healthcare Industry?
Sachin Kalaskar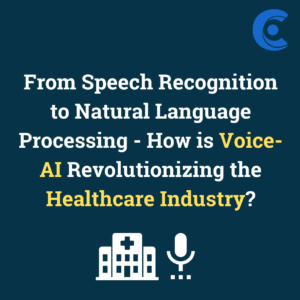 1. Speech Recognition Technology in Healthcare
Speech recognition technology has been a significant advancement in the use of VoiceAI in healthcare, enabling clinicians to dictate notes and transcribe patient information more accurately and quickly than ever before.
2. Enhancing VoiceAI Capabilities in Healthcare with NLP
Natural language processing (NLP) has further enhanced the capabilities of VoiceAI in healthcare by enabling the system to understand and interpret spoken language, allowing for more sophisticated analysis of patient data.
3. VoiceAI-Powered Virtual Assistants in Healthcare
VoiceAI-powered virtual assistants, such as chatbots and voice assistants, are becoming increasingly prevalent in healthcare, providing patients with an easy-to-use interface for accessing information, scheduling appointments, and even receiving medical advice.
4. VoiceAI in Medical Imaging
VoiceAI is also being applied to medical imaging, allowing radiologists and other clinicians to use voice commands to manipulate and analyze images, improving speed and accuracy in diagnosis and treatment.
5. Voice-Activated Surgical Robots and Smart Hospital Rooms
Emerging technologies such as voice-activated surgical robots and smart hospital rooms are examples of VoiceAI applications in healthcare that are currently being developed and tested. These technologies have the potential to improve patient outcomes and transform the industry.
6. More Potential
With the continued advancement of VoiceAI technology, the potential for applications in healthcare is vast, including the ability to analyze and identify patterns in patient data to predict health outcomes and prevent illness and even to provide personalized treatment recommendations based on an individual's unique health profile.
Got more insights on this topic? Please share in the comment section.