Employee Story – Pankaj
coreview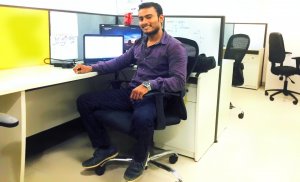 If you have the #passion to #learn… work at CoreView! One can grow professionally and personally if they take advantage of the open #culture and the flat hierarchy.
I joined as a #fresher and have been a part of the Coreview family for 5 years.
Even though I was a fresher and my skill set was limited to Java, I was very interested in working in the mobility domain. Looking at my interest, Coreview gave me a chance, and today I have sound knowledge of the iOS platform, and many other technologies.
I am #fortunate to have such amazing people to guide me. I have grown tremendously, not only technically but my personality and problem-solving skills have also improved.
There are so many wonderful memories I have created with the team, especially the on-team outings and treks. Even during #pandemic, we are very well connected. It's great to be part of such a cool organization.