Why AI is Essential for Enterprise Survival in 2023 – 5 Ways to Enhance the AI Journey
Sachin Kalaskar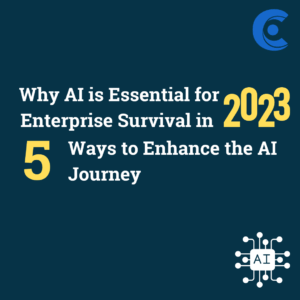 1. Organizations Need to Get Data Fabric in Place for the Success of AI Project :
In 2023, companies aim to implement AI for increased productivity and better decision-making. However, the main challenge is creating a data framework for AI. Many firms lack a strong data infrastructure, making it necessary to clean and organize data from various systems. Companies should treat data as a valuable resource and work with AI solution providers to improve their data architecture. The goal is to gather diverse data, prepare it for AI use, and maximize all three ROIs, not just financial ROI.
2. AI White-Labeling Offers Fair Chance for Traditional Enterprises :
Traditional organizations struggle to adopt AI. The demand for a quickly deployable AI solution is growing. In 2023, using "white-label" AI for customizable solutions will be a competitive advantage. New AI-integrated products will deliver a smarter experience for end-users, freeing up operational bandwidth for innovation.
3. Establishing a Center of Excellence is Key for AI Implementation :
Establishing a Center of Excellence (COE) is crucial for successful AI adoption. A COE with a centralized data infrastructure and a multidisciplinary team of experts is key to organizing data, driving digital transformation, and ensuring AI success. Investing in a COE helps organizations reap the benefits of AI and stay ahead in the future.
4. ERP Systems Need to be "AI-ified" :
In 2023, AI toolkits are available to connect ERP systems to leading AI platforms through middleware for accurate predictions and forecasting. These toolkits must link internal ERP, CRM, HR, and external data to meet the growing demand for connecting enterprise data for AI as companies undertake digital transformation.
5. Natural Language Processing and Computer Vision Will Play an Important Role :
In 2023, NLP and CV technologies will see increased enterprise adoption in automating text and voice data processes. AI-based virtual assistants are becoming a key part of customer service and engagement strategies. NLP and context analysis can provide subtitles, and translations, and help retrieve relevant information from scanned documents. AI can also predict business outcomes and help organizations meet regulatory compliance requirements. The use of NLP and CV will enhance customer experiences and allow organizations to make rapid data-driven decisions.