Voice AI Revolutionizing Real Estate: Streamlining Property Management and Enhancing Customer Experience
Sachin Kalaskar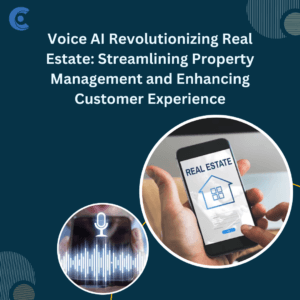 The real estate industry is embracing technological advancements, including virtual reality and AI, with Voice AI emerging as a game-changer. By leveraging voice-enabled technology, the real estate industry is undergoing a remarkable transformation, streamlining property management tasks, and enhancing the overall customer experience.
1. Voice-Enabled Property Search:
Voice AI has revolutionized property search, allowing users to interact with voice assistants and find properties based on their preferences. This not only saves time but also provides a personalized property search experience that caters to individual needs.
2. Virtual Property Tours and Presentations:
Voice AI elevates virtual property tours and presentations to a whole new level. Users can navigate properties using voice commands, creating a hands-free and immersive experience. The real-time information provided by Voice AI empowers users to make informed decisions about potential properties.
3. Enhanced Customer Support:
To ensure round-the-clock customer support, real estate companies are integrating voice-enabled chatbots and virtual assistants. These intelligent voice systems can answer frequently asked questions, provide detailed property information, schedule appointments, and even offer personalized recommendations. This level of support enhances customer satisfaction and fosters stronger relationships.
4. Streamlined Property Management:
Voice AI plays a vital role in streamlining property management processes. By integrating voice-enabled devices into properties, tenants can control smart home devices, report maintenance issues, pay rent, and access crucial information using voice commands. This integration enhances operational efficiency, making property management tasks more convenient for both tenants and property owners.
5. Voice-Enabled Analytics and Insights:
Real estate professionals benefit from the power of Voice AI in collecting and analyzing data. With voice-enabled technology, data collection and analysis become automated, providing real-time market trends, property comparisons, and investment opportunities. This valuable information empowers professionals to make data-driven decisions, anticipate market trends, and identify potential areas for growth.
Conclusion:
Voice AI revolutionizes real estate by streamlining property management and enhancing customer experience. Voice-enabled search, virtual tours, and improved support deliver personalized services. Integrated devices improve efficiency and create a connected environment. Voice AI advances, bringing further innovations for professionals to thrive.
Are you an expert on the topic? Share your Voice AI insights now!