Voice AI in Healthcare: Revolutionizing Patient Care and Medical Records
Sachin Kalaskar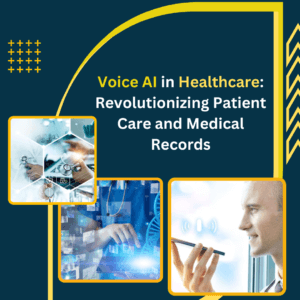 Voice AI is revolutionizing healthcare with virtual nursing assistants, streamlined medical records, personalized treatment plans, and remote monitoring.
1. Virtual Nursing Assistants :
AI-powered virtual nursing assistants engage patients, providing medication reminders, health instructions, and real-time monitoring, enhancing patient engagement.
2. Streamlined Medical Records :
Voice AI automates data entry and medical record updates, allowing easy access to patient information, reducing administrative burden, and improving accuracy.
3. Personalized Treatment Plans :
Voice AI analyzes patient data to create personalized treatment plans, improving diagnostic accuracy and tailoring treatment options for better outcomes.
4. Remote Patient Monitoring :
Voice AI-enabled devices monitor vital signs and chronic conditions, alerting providers of abnormalities for timely interventions and preventing emergencies.
5. Natural Language Processing :
Voice AI with NLP capabilities analyzes medical notes and research papers, aiding faster and more accurate diagnostics and informed decision-making.
6. Improved Patient Engagement :
Voice AI offers educational content, answers health queries, and guides self-management, empowering patients to take an active role in their health.
7. Real-Time Language Translation :
Voice AI facilitates communication in multicultural settings, breaking language barriers between patients and healthcare professionals.
8. Enhanced Clinical Decision Support :
Voice AI-based systems analyze patient data against medical databases, providing evidence-based recommendations for better clinical decisions.
9. Challenges and Ethics :
Voice AI raises concerns about data privacy, consent, and AI biases. Addressing these challenges is crucial to ensure patient trust and safety.
Conclusion :
Voice AI integration in healthcare improves patient care, medical records, diagnostics, and engagement, transforming the healthcare landscape.