The Future of Voice AI in E-commerce: 5 Trends for Creating Personalized Shopping Experiences
Sachin Kalaskar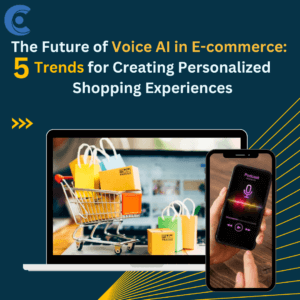 E-commerce is evolving rapidly, and voice-enabled technology is transforming online shopping. By integrating AI and NLP, voice AI enhances the customer experience and offers new opportunities for software product development in e-commerce.
1: Personalized Shopping Experiences through Voice AI :
Voice AI provides personalized experiences for customers, catering to their unique needs. With advanced voice-enabled assistants, users can effortlessly interact with e-commerce platforms, streamlining the shopping journey.
2: Natural Language Processing for Accurate Interactions :
Voice AI understands and responds to natural language, enabling conversational interactions. NLP algorithms interpret queries and provide personalized recommendations, increasing customer satisfaction and conversion rates.
3: Seamless Omnichannel Experiences with Voice AI :
Voice-enabled tech enables seamless transitions across devices, syncing preferences and shopping carts. This integration reduces friction and enhances convenience during the buying process.
4: Enhanced Customer Service through Voice AI :
Voice AI transforms customer service in e-commerce by offering real-time support. Promptly addressing queries and concerns fosters stronger relationships, boosts brand loyalty, and drives repeat business.
5: Embracing Voice AI: Key for Decision Makers :
Decision makers in software development must embrace voice AI to stay competitive. Investing in voice-enabled solutions unlocks new revenue streams and taps into a growing customer base. Voice AI also harnesses data-driven insights for hyper-personalized experiences.
Conclusion:
The future of e-commerce lies in voice-enabled technology. By leveraging voice AI, businesses can create personalized shopping experiences. Decision makers must recognize its transformative power, positioning themselves at the forefront of the industry and reaping the benefits of a thriving e-commerce landscape.
We value your opinion! Share your insights and ideas on unlocking the power of Voice AI for personalized online shopping with us.