Did you hear of "Claude" – The new ChatGPT Alternative
Sachin Kalaskar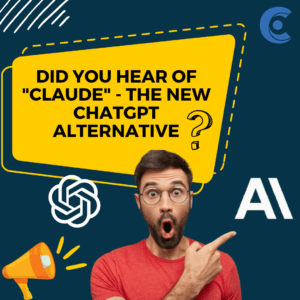 Anthropic, founded by former OpenAI employees, has recently launched a new AI chatbot named Claude that is said to be a competitor to ChatGPT. While ChatGPT has been the fastest-growing app in the world, with competition from Microsoft's Bing and Google's Bard AI, Claude is being touted by Anthropic as being easier to converse with, more controllable, and less likely to produce negative outputs.
Versatile Platform
According to a blog post by the company, Claude exhibits similar capabilities as ChatGPT and performs impressively across various use cases such as summarization, search, creative and collaborative writing, Q&A, and coding. Moreover, early adopters have reported that Claude is more controllable, easier to communicate with, and less likely to generate undesirable results. Additionally, the post mentions that Claude can be customized to reflect specific personality traits, tone, and behavior as per the user's preferences.
Claude and Claude Instant
Anthropic has launched two versions of Claude, namely Claude and Claude Instant. While Claude is a cutting-edge and powerful model, the company states that Claude Instant is a more affordable and faster alternative. The blog post further mentioned that additional enhancements are in the works. The company aims to prioritize its systems' safety, reliability, and usefulness based on its ongoing research and user feedback.
"More Conversational than ChatGPT" – Primary Results
Certain Quora users believe Claude exhibits superior conversational skills and is more interactive than ChatGPT. One user commented that Claude appears more conversational, while another noted Claude's proficiency in storytelling and creativity. Additionally, the company disclosed its plan to incorporate Claude with reliable and up-to-date information sources, such as those available on search engines like DuckDuckGo.
Focus on Customer Needs
As per an email response to TechCrunch, an Anthropic representative stated that they believe Claude is a suitable solution for diverse customers and applications. They further added that the company has been strengthening its infrastructure to support the deployment of models for many months and is sure of fulfilling customer requirements.
GPT-4 Launched
Relatedly, OpenAI has recently launched GPT-4, the successor to the GPT-3 language model that currently underpins ChatGPT. GPT-4 is significantly more intelligent than ChatGPT and has successfully achieved high scores in some of the most challenging exams.
What do you think of "Claude"? Will it outclass ChatGPT? – we would like to hear about your experience with Claude, if you have tried it, and what the future holds