Right Time to Go for External Investment?
Sachin Kalaskar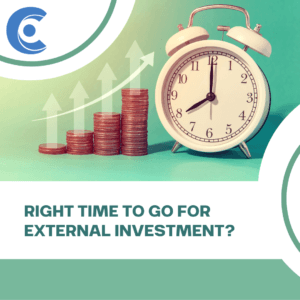 "Makarand, what is the right time to go for external investment? Many people I know have been trying, or have tried it, but a very few have received interest, and a small part of them actually got the money."
"Isn't that the right thing to happen? Everyone can't be the winner. Only the top few will win."
The trouble is that a lot of them want to join the game without proper understanding of the rules. To make things worse, the rules are dynamic, ever changing. We will go over more details in following sessions, however here are some basic rules that may be important to you. Some of this could be considered common sense.
• Every game has a season. Those who play during the season, get the most visibility.
• Play with the right set of people, some play for winning, some for entertainment. Whom would you like to play with?
• Though it's a level playing field, many times the competition is invisible. You do not even know whom you are competing with.
• Be willing to accept losses.
• Never give up. This is a rare game where the winners get out of the game, increasing your chances of winning next time.
The time to get investment is very unpredictable and one should be able to sustain the business till that time. It's time to be aggressive when you have the money in hand, but till then it is better to be sustainable.
Are you designed to sustain?